Yeah, that's right. I signed up for another magical mystery tour. Also known as studying abroad. This time no federal dollars or host family. Or intensive language institute. My language training will continue though, this time working on my Turkish skills, in the classroom for a couple of hours a week but mostly in the classroom of the streets, museums, stores and assorted wonderfully random experiences that are Istanbul Turkey. Let me give you a sense of where I'm going. This is Turkey:
It's the big orange one. I hope the map looks familiar. Istanbul is the city that straddles the Bosporus, right where Europe meets Asia. Here it is a little bigger so you can see some of the neighborhoods: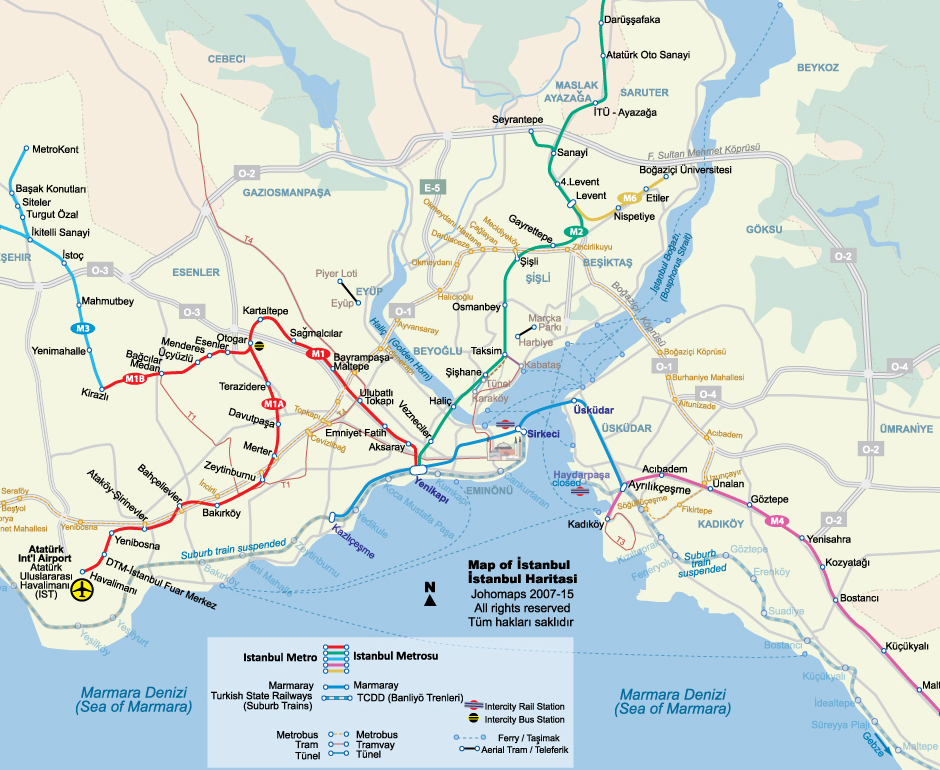 I will be living in North Besiktas, to the right of the red metro line, right near the Fatih Sultan Mehmet bridge. That's where Bogazici University, one of Turkey's best respected institutions of higher learning, is located. Lucky for me, they let me in. From me to Sultanahmet, the historical center of the city, denoted by the cool little illustration of the Haghia Sophia, is about an hour. I will be living in Europe, but just barely geographically. Istanbul is a European city, but more. It's difficult to explain. It's got more energy, noise, traffic, street animals, halal butcher shops, mosques and, in my opinion, life. Istanbul is vibrant, pulsating with humanity and vivacity. I love it. It is home to somewhere between 12 and 15 million people and has been a major trading center since about 300, when Constantine came upon the area and liked what he saw. Since then it has been home to Greeks, Romans, Venetians, Arabs, Ottomans, and everyone else in between. The multiplicity of empires that have fought over, conquered and assimilated to the city means that it's architecture, food, and culture is entirely unique.
Shall we go exploring?